IUBAT Students Build Solar-Electric Car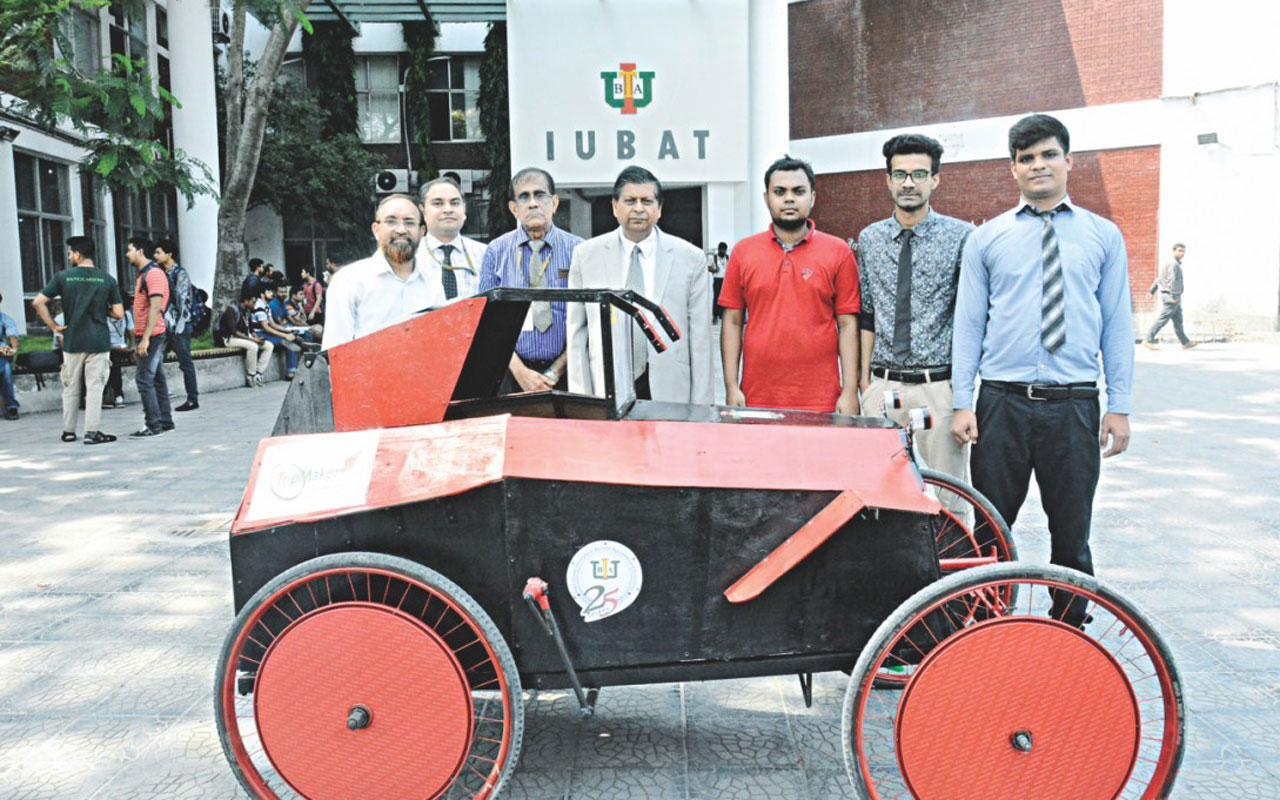 The Daily Star; 12:00 AM, June 13, 2019 / LAST MODIFIED: 12:00 AM, June 13, 2019
On May 22, 2019 IUBAT's Mechanical Engineering (ME) students showcased their very own solar-electric car to an enthusiastic crowd comprising teachers, BRTA officers, media personnel, students and alumni. The car, built from recycled metal and auto-rickshaw parts, was fully designed and built in IUBAT's ME lab-workshop by ME students. With a top speed of 30 km/hr, zero emission and a cost of only BDT 25,000, the car is suitable for intra-city commute.
Four student innovators Nazmus Sakib, Md. Irfan Uddin, Md. Fazle Rabbi and Yaqub Arafat developed the car as part of their B.Sc. final research project under the supervision of Dr. Muammer Din Arif, senior lecturer in the ME department. The concept car was driven inside IUBAT's expansive and scenic campus in Uttara, Dhaka and was filmed by media personnel. After the demonstration, the VC of IUBAT, Prof. Dr. Abdur Rab addressed the distinguished guests and delivered a short speech on the importance of developing renewable energy based vehicles to mitigate the dangerous pollution in Dhaka city. The key speaker was Md. Shahidul Azam, Assistant Director of Bangladesh Road Transport Authority (BRTA) who observed the test drive of the car and commented that it was inspiring to see IUBAT involved in applied research for societal benefit and suggested that government-university collaboration should be developed to support and commercialize such green technology as part of the modernization vision of the government.
The exhibition was concluded by the Chair of the ME department Prof. Dr. Engr. AZA Saifullah who congratulated the students and opined that collaboration among IUBAT, government and corporate can make this type of green electric vehicle a viable reality in the near future.