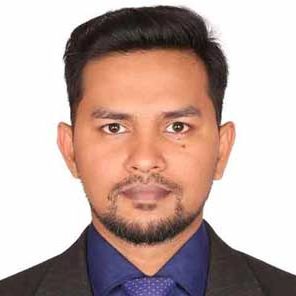 A S M Sayeam
Lecturer
Email: sayeam@iubat.edu
Phone: +88 01736452094
Room: 519, Ext: 512
A S M Sayeam completed SSC in 2003 and stood first in the school. He completed HSC in 2005 with GPA 4.71 out of 5 from Adamjee Cantonment College. He completed Diploma of Associate Engineer in Engine Technology at Karachi, Pakistan in 2010 with a record marks 95% and secured top position among Pakistan, Bangladesh, Nepal and Srilanka students. Then he got himself admitted at IUBAT in Fall 2011. He appeared the Diagnostic tests and got subject waiver in ENG 101. He got SGPA 4 out of 4 in 9 semesters and achieved 'Award for Academic Excellence' for 6 times. He graduated from IUBAT in April 2015 with a CGPA 3.89 out of 4 and secured 1st position in his batch 1120. Now he is pursuing MSc Engg (Mech) in DUET.
He joined IUBAT on 13 October 2015. Before Joining here as an all time Faculty, he held the position of Manager (Engineering & Sales) Sales, for Installation, Troubleshooting and Servicing of Diesel Generator & HVAC systems at United Energytech Ltd, Panthapath, Dhaka (January 2015 to August 2015) and as Sales & Service Engineer for Sales, Installation, Troubleshooting and Servicing of Diesel Generator, Heat Exchanger, Boiler, Cooling Tower, Water Treatment Plant & Pumps at ASHORA ASSOCIATE (February 2013 to January 2015).
He has a 3 months training on Basic Computer Programs (MS Word, Excel, Power Point, Excel) from National Youth Development Training Centre (NYDTC) in 2003. He has done his industrial attachment for 6 months from School of Aeronautics in 2010. He has a 2 two months training on Website Design and Development at IUBAT in 2012. He has a 3 months training on AutoCAD 2D&3D in 2014. He has done his internship for 3 months from United Energytech Ltd on Troubleshooting and Servicing of Diesel Generator in 2015.
Basically Mr Sayeam is a Mechanical Engineer. His area of interest is Thermal Engineering (Thermodynamics, IC Engine, Power Plant Engineering, Heat and Mass Transfer, Refrigeration and Air Conditioning, Turbo Machinery, Fluid Mechanics)
He loves teaching as well as research. He is dedicated to his field of specialization. He joined IUBAT with the intention of developing the field of Mechanical Engineering education in the country and initiating alternatives for financing education by students subscribing to the philosophy of IUBAT.
Sayeam lives in Uttara, Dhaka.